Meet Dr. Megan McFadden, Certified Specialist in Orthodontics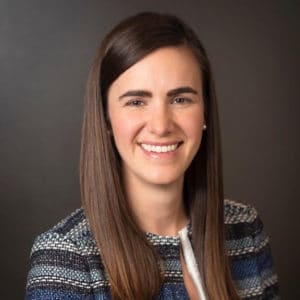 I really had fun going to the orthodontist when I was in braces.  Everyone in the office was happy and enjoyed their work.  This and the fact that my father was an oral surgeon inspired me to become a dentist and eventually an orthodontist. I like solving puzzles, thinking, planning and organizing all of which I am able to do as an orthodontist. More importantly, I enjoy getting to know people and making them smile.
I am glad to have joined Dr. Helpard and the team at Shoreline because they have years of experience providing excellent orthodontic care. They are engaged in and enjoy giving back to the community.
– Dr. Megan McFadden, BSc, DMD, MSc, Dip. ABO

About Dr. Megan McFadden
Winnipeg, Manitoba

I was born and raised in Winnipeg Manitoba, horseback riding.  Even with the cold winters and large mosquitoes, I have fond memories and enjoy going home to visit family and friends.
University of Manitoba (2008)

I completed a Bachelor of Science with a major in Microbiology and won the NSERC undergraduate research award (Natural Sciences and Engineering Research Council of Canada).  While completing my undergrad, I had braces put back on which led me to deciding to peruse my dental degree.
University of Manitoba (2012)

Following in my father's footsteps, I went on to pursue Dentistry at University of Manitoba.  While there I worked in community outreach clinics and did research on airways.
University of British Columbia (2015)

I moved west to complete my Master's Degree in Craniofacial Science and Diploma in Orthodontics.  After experiencing warmer winters, my husband joined me out west.   While at UBC, I met Dr. Helpard who was my teacher on the Cleft Palate and Craniofacial Anomalies team.
Fellow of the Royal College of Dentists of Canada (2015)

I completed my national specialty examination to fulfill the registration as a Dental Specialist in Canada.
Squamish

After graduating, I practiced orthodontics in Squamish and enjoyed getting to know the people in the community.
University Of British Columbia

I continue to love the classroom and sharing my knowledge with undergraduate orthodontists so I teach part time at UBC.
Shoreline

When Dr. Helpard offered me the opportunity to join the Shoreline Family, I jumped at the opportunity to work with such a great mentor. I'm so happy to be able to set some roots with my husband, Dan, on beautiful Vancouver Island. When we're not working, we love to explore and embrace the active West Coast lifestyle spending our weekends skiing, hiking and cycling.
Diplomate of the American Board of Orthodontics, (2019)

This is a voluntary designation that an orthodontist can achieve through continuing education. The primary purpose of the American Board of Orthodontics is to 'elevate the level of orthodontic care for the public by encouraging excellence in clinical practice and specialty education'. I became a Diplomate of the American Board of Orthodontics in 2019 after both written examinations and an oral examination where I presented patient cases I had treated.
Cleft Lip and Palate

I have trained with Drs Grayson and Shetye at the NYU Langone Hospital in the practice of naso-alveolar molding. A process that prepares babies with cleft lip and palates for their lip repair surgeries as a baby.