Meet Dr. Paul Helpard, Certified Specialist in Orthodontics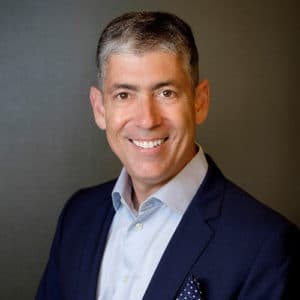 I really care about the people who trust their teeth to me. When you come to Shoreline Orthodontics for treatment you are more than a patient, you are part of the family. Your relationship with everyone at Shoreline will extend beyond the office and beyond your time in treatment.
It's true I love what I do. I like the intellectual challenge of diagnosis and treatment planning, I like the technical challenge of moving teeth and jaws and I like the artistic challenge of creating a beautiful smile unique to each patient. All of us at Shoreline Orthodontics enjoy the process of transforming smiles and people. We do our best to inspire and nurture confidence, that's our mission!
I also care about the communities in which I live and work. I have a wonderful family. I couldn't be as dedicated to my patients without the unconditional support of my wife Christine. Our children Benjamin, Amelia and Sam bring us great joy. They challenge us and make us better people every day.   As a family we have supported many local initiatives. We are particularly concerned about the developmentally disabled or as we prefer to call them the 'differently abled'.
I look forward to meeting you if you are considering orthodontic treatment. If I already know you I look forward to continued friendship.
– Dr. Paul Helpard, BSc, DDS, MSc

About Dr. Paul Helpard
Welland

I grew up in this small industrial town in Southern Ontario. Welland is known for the canal that goes through the center of the city. The Welland Canal connects Lake Erie to Lake Ontario so that ships can bypass Niagara Falls. Pictured is the Main Street bridge in Welland which was less than a kilometer from my childhood home. I have many fond memories jumping off this bridge on hot Ontario summer days into the cool murky water of the canal.
The University of Western Ontario (1987)

I completed an undergraduate science degree at 'Western' in 1987.. The campus at Western was spectacular particularly in the fall with the changing leaves. While at Western I became involved in politics representing the Science Faculty on the Student's Council.
McGill University (1991)

I attended dental school at McGill. Montreal was a great city to live in for four years. I only wish I didn't have to study so much and had a little more spending money to enjoy all that Montreal had to offer. I became president of my class and received the Dr. James McCutcheon Medal for 'outstanding leadership, scholarship and professional achievement' upon graduation in 1991.
Canadian Armed Forces

While at McGill I joined the military to help pay for my way through dental school. I really enjoyed the rigorous summer leadership training. Upon graduation I was chosen the 'Honour' or Top Candidate. When I graduated from dental school I was posted to Esquimalt serving the Navy and Army. It was a great life and learning experience as a dentist.
University of Iowa (1996)

After I completed my obligatory military service I attended the University of Iowa where I completed a Master of Science degree and Certificate in Orthodontics in 1996. The orthodontic program at Iowa is one of the oldest in the world. It provided me with a solid foundation to start my specialty career.
Vancouver Island

My wife and I started our lives together in Langford where we were married and had our first home. In fact we still have a home there. We have lived in Ladysmith and currently spend the bulk of our time in the Comox Valley. My wife was born on the island and we feel a strong connection to all of the communities where Shoreline has a presence.
B.C. Children's Hospital (2000-present)

I have been a consultant orthodontist on the Cleft Palate and Craniofacial Anomalies Team at BCCH since 2000. Once a month I travel to Vancouver to see patients from around the province. Our team creates interdisciplinary treatment plans to help guide community practitioners deliver co-ordinated care for patients.
University of British Columbia

I am a Clinical Assistant Professor at UBC teaching orthodontic residents about the orthodontic care of patients with Cleft Lip and Palate Deformities as well as Craniofacial Anomalies. I enjoy interacting with keen young residents who often teach me as much as I teach them.
Fellow of the Royal College of Dentists of Canada (2003)

This is the national body that currently administers the National Specialty Examination required to become a Dental Specialist in Canada. When I graduated the College exam was optional to Specialists and more a proficiency exam. I took the exam early in my career to challenge myself. I now am an examiner for the Royal College. Every June I go to Toronto to help examine new graduates seeking to gain a licence as a specialist orthodontist. During the year I also help construct and mark the written and oral exams. The process keeps me very current with the specialty of orthodontics.
Diplomate of the American Board of Orthodontics, Diplomate (2008)

This is a body similar to the Royal College whose primary purpose is to 'elevate the level of orthodontic care for the public by encouraging excellence in clinical practice and specialty education'. I became a Diplomate of the American Board of Orthodontics in 2008 after a written examination, oral examination and presentation of 10 patient cases of specific treatment types all of which took 12 years to complete.
International College of Dentists (2012)

In 2012 I became a Fellow of the International College of Dentists. The ICD is the oldest and largest international honor society for dentists in the world. It was established in 1928. A nominated dentist must pass a rigorous, peer review process leading to recognition of the individual's "outstanding professional achievement, meritorious service and dedication to the continued progress of dentistry for the benefit of humankind." My wife and I attended a special ceremony in Saskatoon to receive this award.
The Angle Society (2013)

The Angle Society was formed in 1930 by students of Edward H. Angle, the father of modern orthodontics. He was a physician and orthodontist who created very high standards for orthodontic specialists. The Society continues to promote education and research in orthodontics. Membership occurs by invitation and requires a laborious process of case presentation and a teaching lecture. I completed this six year process in 2013. The members of this society are an elite group of orthodontists who continually strive to provide the best for their patients. I am honoured and humbled to belong to such a group.
L'Arche Comox Valley (2016)

I had the privilege of being a co-chair with the I Belong campaign for the L'Arche Comox Valley. To assist in raising funds my family and I hosted a community event as well as a gala dinner with Alex and Frederic Bilodeau. I am proud to say that we raised more than $1,000,000 in one year to construct a place of belonging in one year to construct a "place of belonging " – a facility that includes residences, creative arts programs and outreach services to assist the "differently abled".